Best CPAP Mask Cleaning Dish Soaps – Here are the Top 4 Choices
Last Updated on March 7, 2022
Do you use a CPAP mask to deal with sleep apnea? If so, it's essential to choose the best soap for cleaning the device. But some ask: How can I get the best soaps? Indeed, what are these best soaps?
Well, the best soaps for cleaning your CPAP mask and its tubing are usually unscented. Moreover, they come with gentle cleaning qualities. That's what describes the best soaps.
Choose Gentle, Unscented Soaps
If possible, make sure you automate the CPAP machine cleaning process. This makes it a lot easier. Note that you can also use some simple dish soaps as an alternative.  Since these can irritate your lungs and cause harm, never use strong cleaning solutions or perfumed agents on your mask, machine or tubing.
As a rule, unscented gentle soaps usually have adequate cleaning power to get rid of unwanted items on your CPAP equipment. In fact, they do this without overpowering your senses.
Keep this in mind: You should use only mild and gentle soap to clean the CPAP mask and tubing.
Here are the best 4 choices as recommended by the CPAP fraternity and experts.
Best Dish Soap to Clean CPAP Mask – Our Top Choices:
Bronner's Unscented Liquid Soap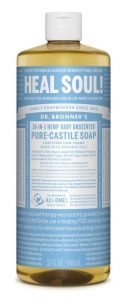 This is a perfect liquid soap for effectively cleaning the CPAP mask and its tubing. Why? Think of the following qualities:
Key Features
It's unscented and prepared with organic, vegan oils.
The soap does not contain foaming agents or synthetic preservatives. This makes it a gentle substance both for household cleaning and application on your skin.
Since the soap's unscented with no-foaming composition, it's ideal for use; also, it does not impact the structure of the CPAP parts regardless of how many times you use it.
It comes with a mild classic scent.
Has no phosphates.
The soap is sold in a bottle designed from 100% recycled materials.
Yes, Dr. Bronner's mix is a truly gentle, eco-friendly soap that is highly recommended.
Ivory Concentrated Dishwashing Detergent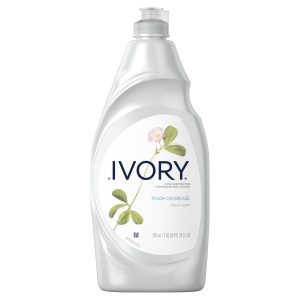 If you want a fresh, nicely-scented mild soap for cleaning your CPAP machine and its tubing, pick this detergent. Interestingly, although the soap works excellent in removing stubborn grease stains on your dishes, it produces only a mild scent and is quite gentle on the skin.
Hence, most people find it really ideal. It's especially suitable for those who have dry, sensitive skin. Furthermore, you can use this soap to clean your dishes at home. This means Ivory Concentrated Dishwashing Detergent is a genuine multipurpose soap.
Johnson's Tear Free Baby Shampoo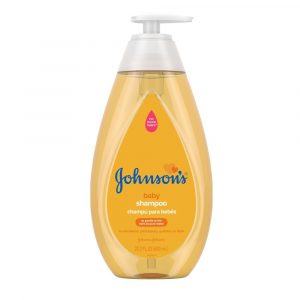 Experts generally recommend that users of CPAP masks should keep off strongly scented soaps. Fortunately, if you are allergic to even mildly scented detergents, you have a great choice; Johnson's Baby Shampoo will do the trick.
The detergent has the following qualities:
The Key Features
It comes in a convenient pump-style bottle.
It's made of hypoallergenic
Is friendly-priced.
Unlike other soaps, it contains no harmful materials like sulfates, dyes or parabens.
Comes with a mild- classic
How can you use this soap? Simply add a small quantity of Johnson's Baby Shampoo to some water and you're good to go; you can start cleaning your CPAP tubing and mask.
Seventh Generation Liquid Dish Soap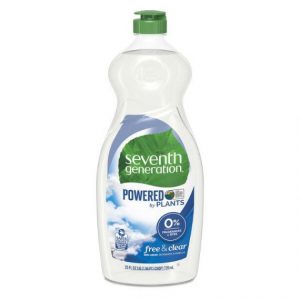 Are you a bargain shopper? You'll enjoy this friendly-priced bargain pack from the Seventh Generation liquid dish soap.
Here are its qualities:
It's prepared with plant-based ingredients.
It's gentle on the skin (and unscented).
Is a USDA bio-based certified product (95%).
It's suitable for removing greases and stains from dishes.
It's a safe, scentless soap for cleaning the CPAP device.
Is gentle on CPAP machine parts, tough on greasy dishes.
Is a friendly-priced product.
Key Features
No phosphates, fragrances or dyes
Made of plant-based ingredients
Unscented
Important Caution:
Note that it is not enough to merely use soap to clean your CPAP device.  Instead, it's better to use the CPAP Cleaning Machine as well as soap. Why? The CPAP cleaner effectively kills 99% of all the bacteria. The soap reinforces the effectiveness and cleaning power.
Experts have described these as the best hypoallergenic detergent soaps on the market. Yes, these are among the best- rated cleaners and detergents on the market.
Now, just pick your choice!