CPAP Cleaning Machines – My Recommendations
It's become super-easy, these days, to maintain routine cleaning activities using modern CPAP cleaning machines. In fact, these machines have made such activities to be quite effective
Do you want to have a perfect device that will keep your CPAP machine spotless clean? If so, it's quite simple: make it your habit to use one of these incredible devices! Yes, choose the best CPAP cleaning machine for excellent results.
You certainly don't want to have your CPAP machine breaking down just because you failed to take care of it as recommended. Do you? Regardless, if you are not careful, the motor in your CPAP machine might soon become clogged with slime. If this happens, the machine can blow and cause immense damage. You could even get injured.
You also need to clean your CPAP machine regularly; it's essential to do this. While doing so, you'll discover some common nuisances, including grime, dust, and bacteria. These usually accumulate within the nosepiece, mask, or the CPAP equipment itself.
I Want to Help You Pick the Most Appropriate CPAP Cleaning Machine on the Market
Keep in mind that if you fail to clean your CPAP mask regularly, you'll be taking a real health risk. Such risks are unnecessary. You might easily catch a cold or get lung infections and similar ailments. Why not care for the CPAP machine as recommended and avoid such problems? When you do this, you'll also prolong the life of the CPAP equipment itself.
There are several varieties of CPAP cleaning equipment available on the shop shelves. It's easy to get confused! Which is the best? We  we'd like to help you solve this problem. You'll personally benefit by picking the best machines.
Well, why don't we dive right in?
Here is our pick of the Best CPAP Machine cleaners on the market today.
Top CPAP Cleaning Machines (July 2022)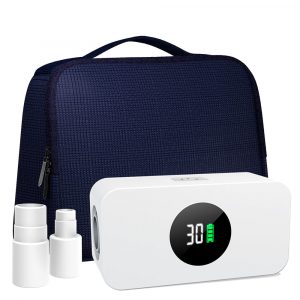 Clyn Premium CPAP Cleaner with Carbon Filters
Most Recommended (Editors' Choice)
Easy set up in under 1 minute
Fast-charging battery with more than ten cycles per charge
Carbon Filters
Solid CPAP Cleaner with Carbon Filter Set
Universal Compatibility
Easy To Use
Effectively Eliminate Odor
Last Longer
100% Satisfaction Guarantee
The CPAP Cleaner Reviews
The Cheap & Cheerful LEEL CPAP Cleaner and Sanitizer Review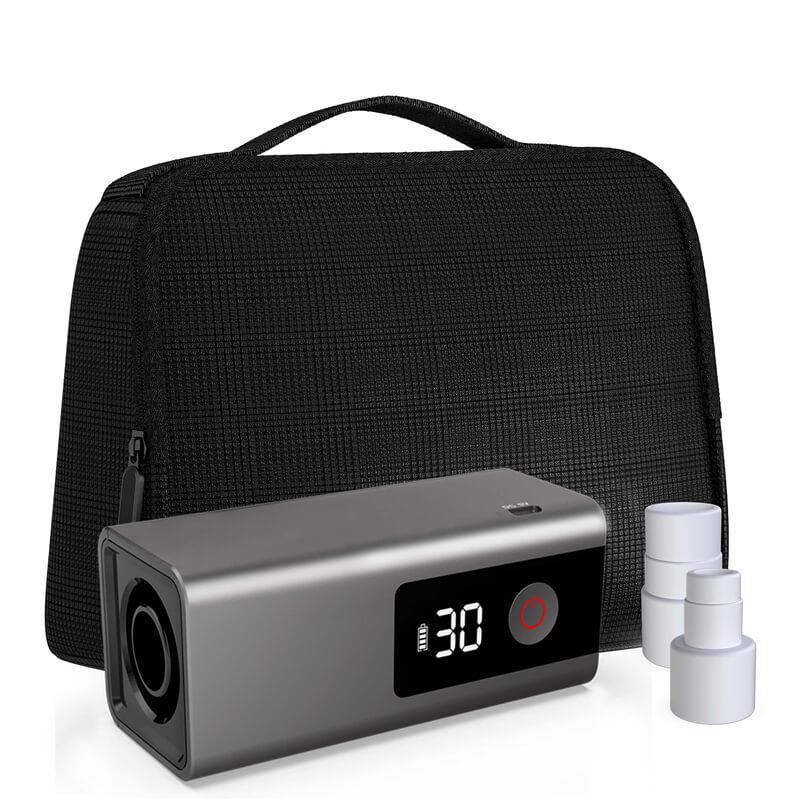 LEEL CPAP cleaner and sanitizer uses modern residual ozone smell eliminating technology to perfectly maintain your CPAP cleaning machine. It also comes with a portable CPAP sanitizer bundle and a remarkable LED display.
When you buy it, you'll get a sanitizing bag as part of the deal. You can use this in your mask and heated dose adapters. And you'll get everything relatively cheaply (compared to similar products).
Features of LEEL CPAP CLEANER
Drying and disinfection: This device uses quality activated oxygen to disinfect and thoroughly sanitize your CPAP, the mask, and hose.
It will eliminate 99.9% of pathogens discovered in your CPAP mask and its accessories.
Eliminates odors using ultra-modern technology.
Its fan blows fresh air into the CPAP in the final 10 minutes of the sanitizing process.
Compatible: You can easily connect LEEL CPAP to 15 and 222 mm hoses of most CPAP models.
Sanitization cycle lasts 20 to 30 minutes.
Destroys bacteria quickly and safely.
Designed with 2600 mAh battery (suitable for 8 sanitizing cycles).
Video
The Cheap & Multipurpose Grownsy UV Light Sanitizer Review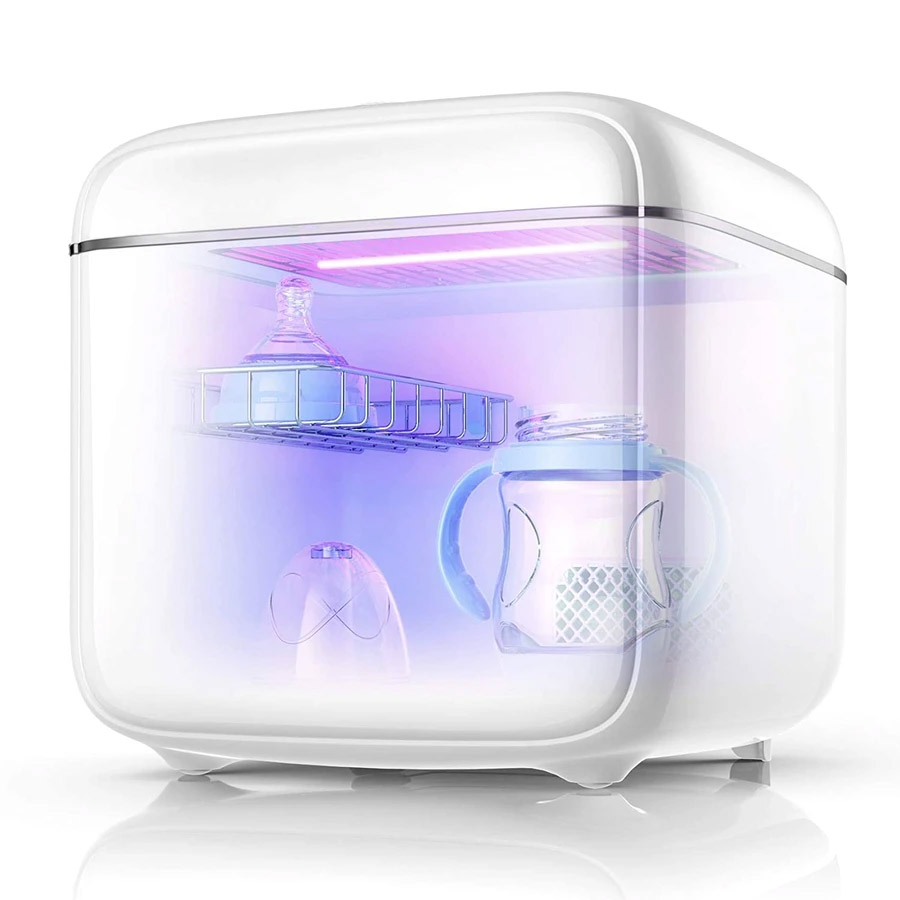 Grownsy UV light sanitizer is a remarkable brand renowned for developing modern, innovative, and credible products that are especially suited for babies and children. Yes, Grownsy' is a runaway favorite baby's lifestyle brand.
Grownsy UV Light kills 99% of germs to protect CPAP users from harmful germs. In these Covid-19 times, you can use Grownsy UV light sanitizer to wash your hands immediately when you come home. Isn't this useful for everyone? Keep in mind that there's a possibility of touching more germs during the day, whether at work or school. In fact, it's more likely than ever for kids. Yes, and it comes cheap and functional.
Have you ever desired a simple but effective way to clean your phone or the kids' toys? Grownsys sanitizer is the solution.
Why?
Grownsy UV light sterilizer box is capable of sterilizing everything that can fit inside.  Are you cleaning or sterilizing bottles or dolls? No problem; this sanitizer easily eliminates 99 % of the germs on items that are used every day. It can also dry at 167 degrees Fahrenheit.
How is this helpful?
You can use the items immediately after drying! This means it's suitable for use in the entire household, including the kitchen. It can also be used in care centers, beauty salons, hotels, adults, and children's clothing.
Since it's designed with HEPA filter, it gives a renewed supply of fresh air. It comes with a mirror inner- wall design. This means you can get 360 degrees sterilizing by merely reflecting the UVC.  Immediately you're done with sterilization, the lid will conveniently auto-open.
Important Features
99% + cleaned.
Large-capacity case.
A 4-In-1 UVC Light Sanitizer.
Sleek design.
Using Grownsy, many have found that they can come home, pop in their keys, mask, phone, and practically everything else, and it fits perfectly! In fact, many say that sterilizing work has never been easier. Since it's easily portable, this means you can carry it anywhere. Moreover, it's easy to store or keep.
Remarkably, when you use Grownsys, and you're finished with sterilizing, the lid automatically pops open to let you know the job is done and dusted! Yes, many have said this convenient product gives them much peace of mind in this Covid-19 period!
The Multipurpose, Best Choice Clyn UV Sanitizer Box (Review)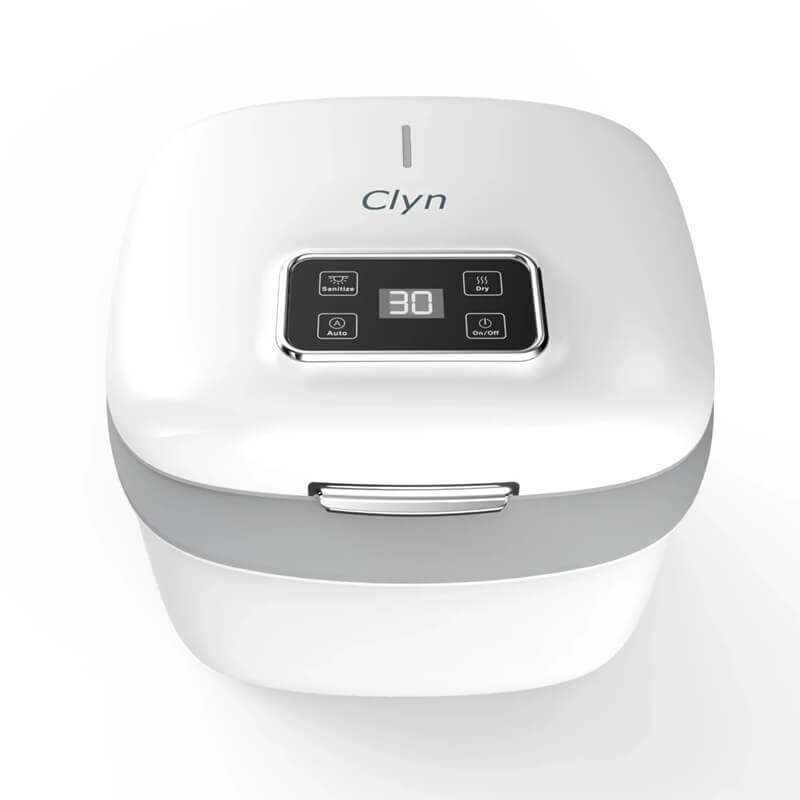 Happily, it's possible to get a CPAP machine that's easy to operate and gives excellent results.  Regardless, for you to have a unit that works well, and that will not damage your health, you must regularly and appropriately maintain it. Fortunately,  you have a ready helper: Clyn UV Sanitizer Box.
Compared to the competition, Clyn UV light Sanitizer is way ahead! Indeed, this sanitizer is decidedly superior to most conventional sanitizing options.
Why?
You'll find it stronger, using less energy, and it does not require the use of mold or cleaning solutions. We will briefly compare it with another leading model: Lumin CPAP cleaner to demonstrate its superior qualities. This will help you act wisely.
For a long time, users of CPAP machines have loudly called for a straightforward product that allows them to wash their water reservoir and masks quickly and easily. In fact, since the Covid-19 pandemic knocked our doors in 2020, many have discovered that CPAP cleaners can do more work than they ever imagined.
How?
We've more daily sanitizing, disinfection, and cleaning tasks than the situation previously demanded.  The answer? Get Clyn CPAP cleaner for a convenient and effective solution. Compared to Lumin CPAP cleaner, for instance, you'll find Clyn doing much better.
 Efficient Features:
Clyn CPAP cleaner uses UV (Ultraviolet) means to clean your CPAP equipment. It comes in these convenient dimensions: 11 x 11 x 9.6 inch and 12.2 x 8.5 x 7.75 inch.
It offers both a cleaning and drying
Takes 10 to 15 minutes to clean your CPAP
Uses air hose cleaning technique.
Reasonably-priced.
Keeps items sterilized for 72 hours.
On its part, Lumin CPAP Cleaner promises to kill 99% of the germs using UV light. It's specially made for mask and CPAP accessories cleaning. There's no doubt that Lumin CPAP cleaner is speedy and efficient, but Clyn CPAP cleaner comes with more advantages.
Think of these: Clyn CPAP cleaner can disinfect work passes, cards, and other stuff in just 15 minutes. For baby articles, its drying function is fantastic. To suit your needs, it comes in 3 efficient working modes.
Yes, Clyn CPAP cleaner is the perfect choice for mums who genuinely care for their babies!
Sleep8 Cleaner and Sanitizer Review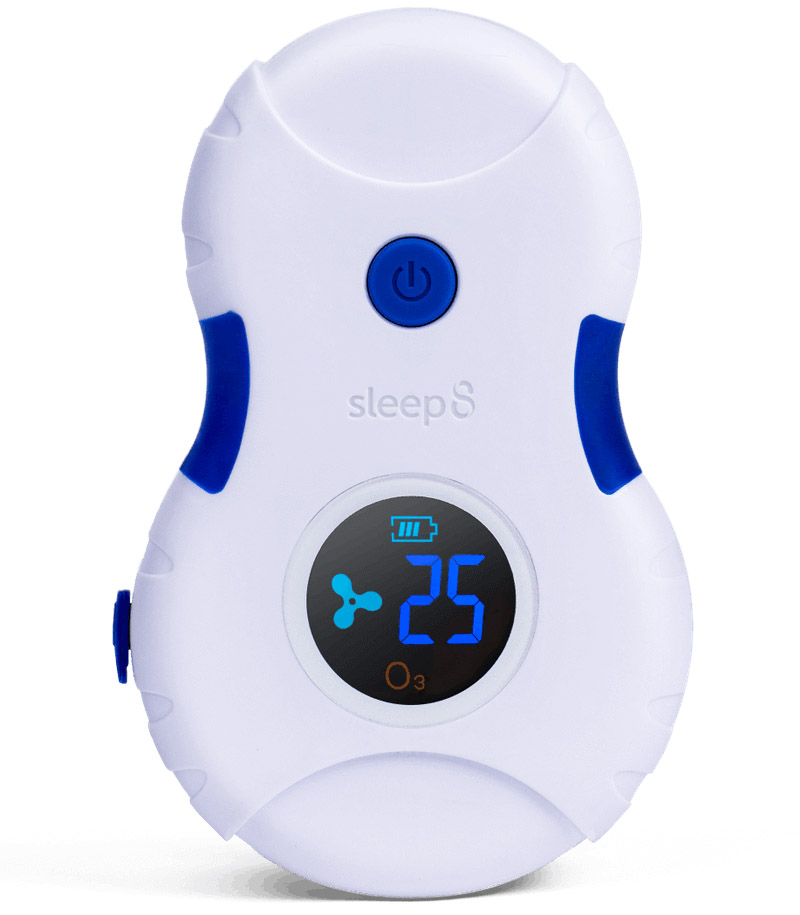 Sleep8 Cleaner and Sanitizer comes in an incredibly user-friendly design. With it, you'll get a safe, fast, and efficient sanitization and cleaning process. Moreover, its operation is virtually perfect. It helps you get rid of all kinds of harmful mold inside the mask, the tubing, or other accessory parts. It also eliminates viruses and all elements of bacteria.
Sleep8 Cleaner is not designed with any special connections or adapters. This means you can use it with various types of CPAP machines. Hence, you don't have to attach it directly to your device.
All you need to do is fix your humidifier chamber (non-tubing or heated) and the CPAP mask and headgear into the filter sanitizer bag. Once this is done, press start, and you're done. In fact, you'll discover that the port inside the bag fits perfectly into all kinds of heated hoses, standard PAP hoses, and electric diagnostic hoses.
Quiet Cleaning
Perhaps you already know that most cleaning and sanitation machines usually produce noise. But things are different with Sleep8. It works impressively with quiet operation. This means you can use the device in different environments.
Sleep8 CPAP cleaner and sanitizer can eliminate 99% of pathogens, bacteria, and viruses from your CPAP equipment. Interestingly, this sanitizer is designed to work automatically. Sleep 8 sanitizer is a relatively new brand of CPAP cleaning machine. Yes, it's one of the most modern CPAP cleaners around.
The Remarkable PurePAP CPAP Sanitizer Review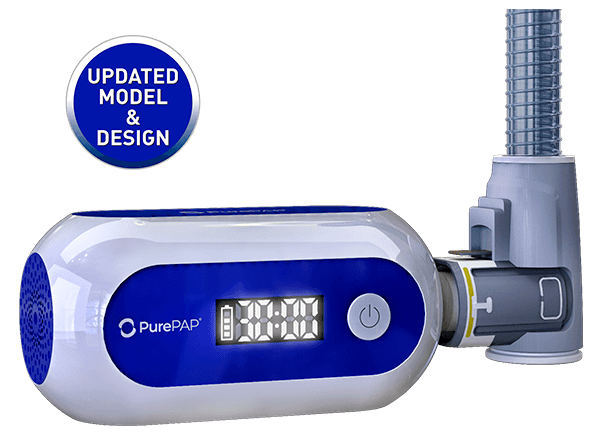 Many have described PurePAP sanitizer as the best choice for travelers. It offers a fantastic way to clean your CPAP machine.
PurePAP produces activated oxygen quickly. This reaches every corner of the CPAP machine as well as the tube and mask. It's perfectly safe and convenient. PurePAP cleaner also comes in an optimized design that is easy to use.
During start-up, this cleaner facilitates a quick generation of activated oxygen. After clean-up, the oxygen dissipates fast. To use it, just plug in the CPAP/ Bi-level to the device, turn on PurePAP, and voila! It's done! PurePAP will instantly clean your CPAP equipment in 30 minutes using ozone or activated oxygen.
Essentially, PurePAP sanitizer uses a similar sanitizing process which also works the following common functions:
Hospital sanitizing.
Produce handling.
Water purification.
PurePAP is essentially designed to be used both at home and while traveling. What's the difference? Simple: Most devices of this nature are intended for only one of these purposes- either for home use or traveling only. But PurePAP does all these!
While most home units of this kind are usually large, bulky, and loud, Pure PAP is different. Many portable units are also designed with cheap charge controllers- you can't even run them when plugged on. PurePap uses high-quality charge controllers; this means you can use the machine while charging.
Overall Features of PurePAP
Kills 99% of all germs and bacteria.
Takes just 30 minutes to sterilize- it saves you time.
Ultra-quiet.
Small& portable (weighs only 16 ounces).
Doesn't need soap, cleaning solutions or water.
Automatic cleaning.
Ideal for use at home or in hospitals.
Takes 2 hours for full charge.
Less maintenance.
Uses activated oxygen (Ozone) to disinfect.
Uses rechargeable lithium ion battery (10-year life).
Gives a minimum 6 -full cleaning cycles per charge.
How Does the CPAP Cleaner Work?
Using a CPAP cleaner and sanitizer, you can quickly clean and sanitize your device.  While using these machines, ensure all parts are dry. Do this before using them the next time. This will eliminate worries about mildew, spreading germs, or mold. It also reduces the possibility of contracting an upper respiratory infection and similar illnesses.
Note that there are three different types of CPAP cleaners:
Ultrasonic Tanks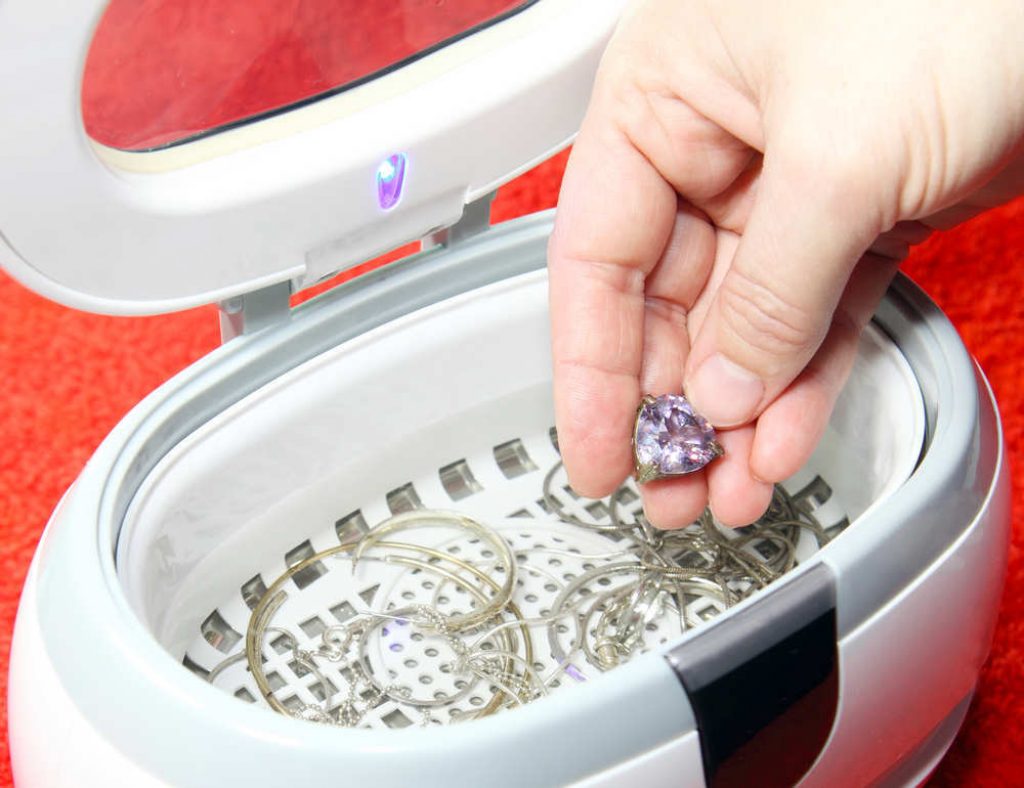 These are used to clean tablets dissolved in hot water, just like denture cleanser tablets. The tank usually holds the mask or hose, and ultrasonic pulses combine with the cleanser to eliminate particles. Note that it's better to hand-wash than relying on these ultrasonic tanks.
Ozone

Most modern CPAP cleaning devices use activated oxygen (or ozone) to remove contaminants.  Some top models can even clean your system without requiring you to disassemble it. Others usually require you to take off the mask and the hose as well as the humidification chamber before the cleaning process.
UV light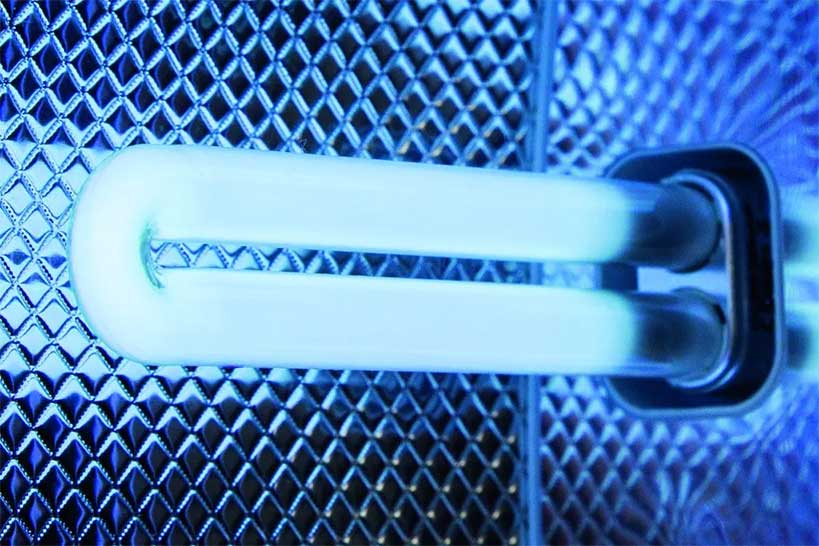 This is the latest technology in the CPAP sanitation process.  While you have to clean the hose, water chamber, and mask individually, UV light generally cleans faster than most other methods.  Notably, UV light technology has been utilized for years in the medical field for disinfection. This is an explicit guarantee that it's a reliable method.
What Factors Must You Consider When Choosing the Best CPAP Cleaner?
Time Taken to Clean
It can take 5 minutes to several hours. Everything depends on the type of machine used. If you want things to be done fast, this is an essential consideration.
Portability
Ask yourself: Is it portable?  This is crucial for regular travellers; you don't want to be away on the road only to discover your equipment and devices are missing!
Compatibility
Is this machine really compatible with your device? Keep in mind that some equipment will require an extra adapter to fit.
Ease-of-Use
Is the machine easy to use? Or must you take apart your equipment to do the job?  How easily does it connect to your cleaner? The answers are crucial if you want a suitable device.
Cost
Some companies give financing to those who need it (in the form of low payments). Others will offer you a risk-free trial so that you can test the equipment. Make sure you check the warranty conditions as well.
The Hidden Costs of Purchasing a CPAP Cleaner
Don't think the moment you arrive home everything's done; no! There could be some 'hidden costs' even after the shipment arrives. These might be minimal, but they 'secretly' increase the total cost of acquiring the CPAP cleaner.
Consider these:
You may have to replace the CPAP cleaner's filter every 3 to 6 months. A filter usually costs between $10 to 40.
Most CPAP cleaners ask users to clean their face masks with specially designated wipes. Such wipes are meant to clean facial oils and dirt. It will cost you $7-$10 per container.
To remove residues and odors from the CPAP machine, you may have to use a specified liquid detergent. This is often necessary before you use the machine for the first time. It costs $10.
You may have to pay $4.50-6 every month to buy the ultrasonic CPAP cleaner
Is it Really Advisable to Buy a CPAP Sanitizer?
You may wonder about this question. Note that most CPAP sanitizers and cleaners may not provide the best cleaning services (better than using water and soap). Moreover, there's little evidence to suggest that the devices can reduce infection risks.
Further, do these companies really have a financial interest in ascertaining the above facts? No! Their devices and products on the market are already selling well without the need for such measures! Instead, the companies are aggressively pushing for direct-to-consumer product marketing without any supporting scientific credentials.
Why Do You Need to Use a CPAP Cleaner?
Why must I use a CPAP cleaner? Generally, 2 devices can help those who suffer from chronic obstructive sleep apnea- BiPAP and CPAP machines. Note that these machines work differently. To maintain them well, you must clean them. This will also protect you from harmful bacteria and germs.
There are 3 main types of CPAP masks:
Nasal Pillow – You can fit it under the nose, sealed around the nostril. Thus, when you compare this to a mask, it's generally more comfortable to wear.
Nasal CPAP Mask – It covers only the nose. Hence, it's more comfortable to use compared to the full mask.
A Full-Face CPAP Mask – It covers the nose and mouth.
BIPAP therapy is another mask remedy designed to help sleep apnea patients (This acronym stands for bi-level positive airway pressure). A BIPAP machine uses lower pressure than a CPAP machine. It produces oxygen at two levels of pressure. Thus, the inhalation process pushes more oxygen than exhalation.
Are Your Home CPAP Cleaners FDA-Approved?
It's essential to think twice before settling on a specific machine that claims to disinfect or clean a CPAP. Note this: The US Food and Drug Administration (FDA) has not approved all of these machines.
Why? Essentially, it's not necessary to use a machine to clean the CPAP mask. In fact, users can clean most CPAP machines using water and soap. Indeed, this is what the product manual prescribes. Some manufacturers even recommend the use of diluted vinegar in cleaning these devices.
You might still wonder: Why is the FDA interested in the safety and quality of devices claiming to clean CPAPs? There are some excellent reasons.
Consider these:
The FDA recently received information that some patients experienced unexpected bouts of headaches, breathlessness, and asthma attacks after using CPAP- cleaning devices that have ozone gas. Yes, it's known that ozone can leak out of your CPAP equipment and get into the home environment. Even several hours after the user finishes the cleaning process, your CPAP equipment can still have above-limit ozone levels.
Essentially, the FDA has not approved or cleared any Ozone gas and UV light machines claiming to clean CPAPs. This means the FDA has not confirmed that these elements actually kill germs on CPAPs. Thus, the FDA does not recommend using such machines.
Furthermore, the FDA has not approved any home CPAP cleaners.
So, all CPAP cleaners are not approved by the FDA.
But there's one notable exception:
On December 3, 2020, in a significant decision, the FDA announced that it had approved Lumin CPAP Cleaner. This means Lumin can now be used legally in nursing homes for medical purposes. Notably, you can also safely use it to clean your CPAP equipment.
CPAP Cleaning Machines Comparison Table
| | Top CPAP Cleaner and Sanitizer LEEL | PurePap CPAP Sanitizer | Grownsy UV Light Sanitizer | Clyn UV Sanitizer Box |
| --- | --- | --- | --- | --- |
| | | | | |
| Price | Check Price | Check Price | Check Price | Check Price |
| Laboratory Tested | - | - | - | - |
| Cleaning Method | Activated Oxygen | Activated Oxygen | UV Light (Ultraviolet) | UV Light (Ultraviolet) |
| Efficiency | 99% | 99% | 99% | 99% |
| Portable | | | no | no |
| Cleaning Cycle | 30 min | 30 min | 5 min | 15 min |
| CPAP Compatible | No adapter needed | All in 1 Tube adapter included | No adapter needed | No adapter needed |
Final Thoughts
Clearly, our health comes before everything else. If you use the CPAP machine, you may decide to buy a CPA cleaning machine as well. But take care- choose the best CPAP cleaning device available in the market.
In these troublesome Covid-19 days, you can use some of these recommended CPAP cleaners to disinfect masks (like the N95 mask). Clyn UV Sanitizer Box and Grownsy UV Light Sanitizer rank among these.
Take care of all the safety elements. Think twice before you acquire any of these machines. Keep in mind that, apart from one exception, the FDA has not approved all CPAP cleaners for use in the US. Then, make an intelligent decision that safeguards your health and that of your family.
Always keep safe!