How to Choose a CPAP Nightstand or Bedside Table for Your Equipment
Without a doubt, a CPAP nightstand or bedside table is essential for everyone who uses a CPAP machine to control sleep apnea. Certainly,  you'd always want this stylish piece of furniture by your bedside. Why, it serves multiple purposes. This includes offering convenient storage at an arm's length. Moreover, it brings a beautiful balance to your bedroom.
Best Bedside Tables for Using CPAP Equipment (Updated November 2020)
You can get this furniture in various styles and features to enriches your bedroom décor. When choosing the table, it's quite essential to think about storage and space issues as well as other matters.
Ensure Your Equipment Fits Perfectly into the Selected CPAP Nightstand
Yes, everything in this equipment should fit into the bedside table, your CPAP machine, the mask, and CPAP cleaner. Overall, you can apply the same considerations you generally use whenever you want to buy an ordinary bedside table.
Think about the following factors when buying a CPAP bedside table or nightstand that will serve you best:
Choose a NightStand with Enough Storage Space
As noted above, there are essential considerations to make when choosing a CPAP nightstand. Storage is a key; ask yourself: Will my CPAP equipment fit perfectly into the table? Will everything, including the CPAP machine, CPAP mask, and cleaner fit in?  This is important.
Consider also: Would you want others to see your CPAP equipment? Do you prefer, instead, to keep it hidden inside the drawers? Do you wish to keep it away behind closed doors? Get the right answers. The choice is yours.
Suppose you can get a CPAP nightstand that comes with a drawer that can carry all your CPAP equipment, what a fantastic deal! Why, it's a beautiful experience to simply pull out the CPAP machine from the drawer whenever you want to use it, don't you think so?  Well, this picture shows how you can enjoy the beautiful experience: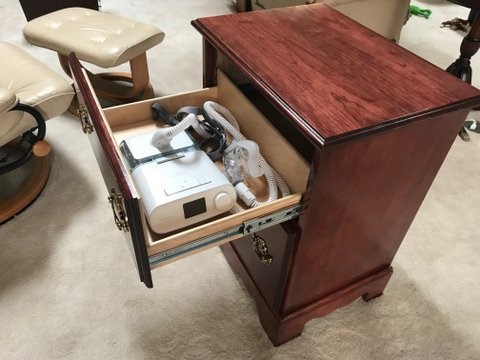 Choose a CPAP nightstand that comes conveniently equipped with shelves and drawers. This will offer enough space to keep all your bedside necessities. Ideally, you should choose a nightstand that has several drawers and doors. These will keep your items conveniently hidden.
You may also choose a bedside table that comes equipped with an open shelf. This feature will be useful for displaying a stack of books if you have some. It can also hold a basket containing various items.
Even if you don't think you need lots of bedside storage, you still have a choice. You can get a smart option of a nightstand that features a single drawer. Other nightstands have an open-ended design with no drawers at all. Of course, the choice is yours.
Select a NightStand with the Ideal Height
You certainly want a consistent décor and a surface that is at a usable level. Hence, choose a nightstand that's as tall as your mattress top. Get a nightstand that's tall enough to match a bed with tall bases or pads.
Keep in mind that for shorter beds, it's advisable to buy low-profile nightstands; these will have the best appearance. Put your nightstand several inches away from your bedside. This is how you'll allow enough room for the blankets and sheets to hang well over the edge. It'll also prevent accidental collisions when you're sleeping on the edge.
How wide is your CPAP machine? Consider this when choosing the ideal lampstand to accommodate your valuable equipment.
Get a Nightstand with the Maximum Surface Area
Is there enough space on the top of the selected nightstand to hold an alarm clock, a table lamp, or whatever you wish to have within easy reach at the bedside? If you know that your current nightstand accumulates lots of items, choose one with lots of top surface area. Move your framed photos to the walls; this will create space on the nightstand. Keep some things in the nightstand drawers to save more space.
Pick a Nightstand Made with the Best Materials
Material is a crucial consideration when choosing this furniture. This is because it creates an impact on your room style and environment.
Choose a lampstand made of distinguished brass, natural wood, or iron hardware. It enriches a traditional bedroom style.  If you want a contemporary accent, pick a nightstand with glass accents and polished material. If you need to support a heavy lamp or store some bulky items, choose a more balanced and solid nightstand.
Choose a CPAP Nightstand with the Right Colors for Your Room
Let the nightstand colors fit your room palette. Keep in mind that lighter colors reflect while darker colors absorb the light. Do you want some extra light in your bedroom? Pick a white lampstand, glass nightstand, or metal nightstand. If your room is a little too bright and you wish to tone it down, choose a black or cherry variety.